Appendix Collaboration Tools
Student Writers
Jorge Bensus, Daniel McCommon
Return to Journey to Successful Writing, Tour Guide to Technical Communication Menu
Collaboration Tools
Collaboration Tools…………………………………………………………….1
Introduction………………………………………………………………………..2
Face to Face Collaboration…………………………………………………4
Videoconferencing………………………………………………………………5
Online Collaboration…………………………………………………………..7
Online Editors……………………………………………………………………..8
Microsoft SharePoint 2010…………………………………………………8
Lotus Notes/Lotus Live………………………………………………………9
Simply Work Smarter…………………………………………………………10
Crossing Boundaries…………………………………………………………10
Business Opportunities……………………………………………………..10
The Choice of Lotus……………………………………………………………11
Google Docs……………………………………………………………………….11
Zoho……………………………………………………………………………………12
Online Presentation Tools…………………………………………………13
Empressr…………………………………………………………………………….14
Prezi…………………………………………………………………………………….14
SlideRocket………………………………………………………………………….15
Synchronization Services……………………………………………………15
Syncplicity and Drop Box…………………………………………………….16
Sharing and Collaboration Spaces…………………………………….17
Wikidot…………………………………………………………………………………17
Wiggio………………………………………………………………………………….17
Considerations when Collaborating with Others Online….19
Professionalism…………………………………………………………………..19
Language…………………………………………………………………………….19
Introduction
A crucial part of being successful in this world today is keeping up to date with latest technology and programming that help make goals painless and minimize complication. Having taken into account the purpose of your work, your cause requires you to have access to tools that easily let you share, edit, and revise information exchanged between groups and their members. An easily accessible collaboration tool can be one of the most useful attributes to a group's process. Some of these collaborative tools allow documents to be published to easily accessible sites that are able to be seen from multiple "channels" or even one's mobile devices. With all of the new software coming out, complications also arise in software compatibility with one's web browser such as display issues, editing problems, or access to the documents you need in general. Keeping in mind what your goals are, what are the key features of a collaborative process that your class needs to work together efficiently and with minimal complications?
Accessible – Whether it be from a laptop, home computer, or your mobile device the documentation being used must be easily accessible.
Secure – The chosen collaborative tool must also have some sort of security so only approved personnel may edit or review documentation.
Productive – The tools that the software entitles such as inputting comments, and how quickly documentation is published for viewing.
Collaboration
Source: www.educationtechnologyguy.blogspot.com
Picture this scenario, you are a part of a team that is geographically wide-spread and has been pressured to complete a project with a minimal timeframe. Potential struggle occurs trying to keep the entire team effectively participating and sharing goals. Part of your team meets remotely while another part of your team has the luxury of face-to-face meetings.
Communication aids are critical for effective collaboration. Teams usually prefer to work the same way face-to-face as they do online. Communication aids make this possible and are often used in face-to-face collaboration. For example, whiteboard or post-its are typical face-to-face brainstorming processes. The same principles of using a whiteboard or post-its make for the best online collaboration tools. Every interaction in online collaboration results in an artifact. This does not improve the worth of online collaboration as said artifact is not always the best work. An Ideal collaborative strategy for completing major projects leverages face-to-face and online interactions.
Face to Face Collaboration
There are emotional benefits of face-to-face interaction, such as the power of being in another person's presence and the power of touch. Ultimately, that is what being humans are all about.
Intricately programmed and facilitated workshops permit teams to develop and brainstorm ideas to come up with the best suited plan for the team's goals and put it into action.
Sometimes it makes sense to have some people participate in person while others join remotely. This dynamic tends to create an uneven playing field and inhibits open sharing among all. Better to have everyone participate remotely, with equal access to the same technology. If the situation permits the advantage of a face-to-face interaction between any team members, said members who can get together should use this time to complete work that is simpler to be finished face-to-face than online and share the results with the rest of your team. Fix the agenda to minimize time the remote people must be virtually present if you must bring co-located and virtual members into a meeting. Individual tasks such as developing three top ideas or two major challenges are an excellent path to encourage your team to stay involved with pre-work. Sending schedules and deadlines for team members in advance, along with very clear and specific intended outcomes, will allow your team to better prepare themselves for the next meeting, whether it be face-to-face or via online collaboration tool.
Videoconferencing
A videoconference also identified as a video teleconference, is a group of interactive telecommunication technologies that contain features granting team virtual video and audio capabilities. This has also been referred to as 'visual collaboration' and is often specified as groupware.
Videoconference
Source: www.wikipedia.org/wiki
Audio and video telecommunication capabilities make videoconferencing easy to bring your team at different geographical locations together for meetings. From as little as a one-on-one conference call in private offices to involving numerous locations with many people in a conference room. Videoconferencing is not limited to audio and video capabilities though. It allows the sharing of documents, computer-displayed information, and whiteboards as well.
Online Collaboration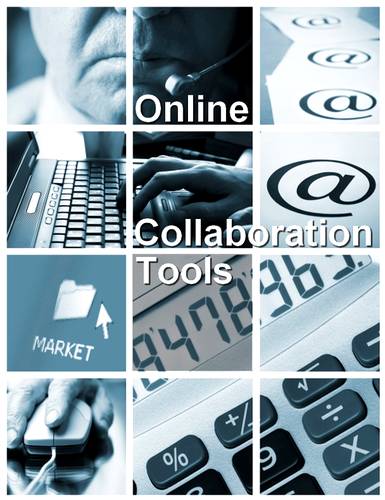 It is becoming more common for businesses to rely on virtual communication to accomplish their tasks. Employees interact and collaborate via the internet and if they do not have a reliable and centralized system that allows them to share their participation. In addition, a team should select a set of collaboration tools that are suitable for the circumstances and that meet the basic requirements. Otherwise a wrong system of communication can lead to many difficulties such as:
Loss of data
Synchronization issues
Privacy and security issues.
Online enables balance because you are working with a standard that is naturally replicable and easy to share. Where geographical restrictions do not pertain, you can potentially attain a much larger audience. The key word is potential. Actually attaining balance online is a vast dispute, and how you structure that goal is crucial. Size, for example, may not be as imperative as diversity.
The following free online collaboration softwares are some options that can meet your setting needs.
Online Editors
Microsoft SharePoint 2010
Simply put, Microsoft SharePoint 2010 makes it easier for people to work together. By using SharePoint 2010, colleagues can share documents, manage projects with partners, and publish information to customers. Daniel N. McCommon, a highly prestigious network architect, commented that a "search" utility is crucial for any worthwhile collaboration tool. SharePoint possesses this utility needed to not only share your files, but also make them easily accessible by another authorized user.
Searching on SharePoint rummages around through the clutter in a permutation of significance, alteration, and social cues that assist people in finding the data and associates they need to get their jobs done proficiently and fast.
SharePoint permits you to work with figures from additional structures as if they resided in SharePoint with its compound features. A client may generate, interpret, inform, and remove the data using external records. This potential also allows teams to work offline and synchronize your modifications when you reconnect.
Combining customary content management, shared capabilities, and dominant searches, it is as natural to handle as it is to utilize. With its straightforward, "behind-the-scenes" administration, teams can swiftly set up agreement policies while its recognizable interface lets your team work just as they would in Microsoft Office. The product is well-managed information that is effortless to locate, distribute, and apply.
SharePoint 2010 is perfect for IT Professionals. It transports a authoritative, easy to deploy infrastructure that can help your team put together your company more productive. Flexible operation options let you modify the system so that people can do their jobs efficiently in a protected environment. Plus, with centralized administration and management features, your team can be self-assured knowing that you preserve power over a system that is prepared to react to any business need.
Lotus Notes/Lotus Live
IBM Lotus Software transports robust collaboration software that authorizes people to connect, collaborate, and innovate while optimizing the method they work. With Lotus your team can compel better business outcomes through much more affective collaboration. Social businesses will be more approachable, more responsive and more triumphant in general. With IBM Lotus Notes, you can give power to your team with social networks, and connect with experts and clients.
Simply Work Smarter
You can reduce complications of the way you work, while helping to add to your business' efficiency and bank money. Lotus Live brings you incorporated collaboration tools that can assist you to do more for less.
Crossing Boundaries
Your collaboration tools, e-mails, and online team gatherings are all integrated into Lotus Live. This makes it much easier to bring your team and your projects together. With no complications concerning firewalls, your team is assured to work seamlessly with people inside and outside your organization. At no additional charge, Lotus Live guest model allows invitations to be sent to anyone to collaborate.
Business Opportunities
Roughly fifty percent of all collaboration services are likely to be delivered via the cloud in the next three years. By becoming a Lotus Live Business Partner your team will have admission to cutting-edge technologies as well as significant marketing and sales resources to assist your businesses drive. Find out how you can team with Lotus Live and transport industry-leading, online collaboration clarifications for the working world.
The Choice of Lotus
This Software package knows one size does not fit all. Whether you are introducing collaboration services to your business for the first time or you have already invested in on-premise software, Lotus Live can help. Learn how easy it is to expand the capabilities of your current investment by moving into the cloud.
Google Docs
Google Docs is a useful program that allows you write documents online, upload existing ones, and edit them. Similar to the Microsoft Office package, Google Docs contains a presentation, a spreadsheet and a word processor tool. It also has accessing features that lets you control who can view and make changes to your documents.
Figure 3
Google Docs
Source: www.google.com
Zoho
Zoho is a great choice for individuals or companies that require multiple communication and sharing features that are packed in one centralized web based platform. Zoho offers many communication applications such as E-mail hosting, contact lists and calendars. It also lets you share your documents with your other team mates for editing. Furthermore, Zoho includes other business-oriented tools such as human resources, customer relation, and business management tools.
Figure 4
Zoho
Source: online-project-management-review.toptenreviews.com
Online Presentation Tools
Utilizing cloud-based presentation tools can give you capabilities not found in the traditional computing model. For example you can post your material in one of the many available presentation tools via a web browser and then access to it from anywhere without having to install any compatible software in your computer. Another great advantage of using online presentation tools is the power to expose and share your presentation. With permission capabilities you can reach any audience size, as big or small as you need to.
Empressr
This free web based presentation program, Empressr lets you create, share and edit your presentations on its platform. Its editing capabilities allow you to insert graphics, pictures and even video. Empressr will then store your changes online so that you can access them remotely via an internet connection.
Prezi
Unlike Microsoft's Power Point, this presentation tools makes your material come to life with its revolutionary visual effects. Its non-linear format lets you view a complete lay out of your presentation and zoom into a specific topic for details, such as a the layout of an interactive menu with a table of contexts.
You can insert picture, video and flash format content using Prezi's zooming editor. Prezi is a free presentation tool, but like others it requires a user's subscription.
Figure 5
Prezi
Source: www.layersmagazine.com
SlideRocket
SlideRocket is an online presentation tool specialized in putting together slide shows. It enhances the flow of your presentation by using transitions and other visual effects such as tables, pictures and video. Its flexible compatibility lets you upload pre-created PowerPoint documents for editing and storage online. You can even insert in your presentation content from public sources such as video YouTube or data from Google. You can subscribe to use this powerful presentation tool for free.
Synchronization Services
Syncplicity and Drop Box
The use of synchronization services can provide you with many advantages, especially if your group setting requires you to constantly share and update your progress with other members. Services such as Syncplicity, Drop Box and Live Mesh are capable of simulating a virtual network that your group can use to access and share your data. For example if you edit a document on your computer, the synchronization applications can automatically access a copy of the same document stored in other group member's computers and update the edited document as well as the copy stored on the service's web page.
Figure 6
Syncplicity
Source: www.pcmag.com
Sharing and Collaboration Spaces
Similarly to synchronization services, sharing and collaboration spaces let you store files on their space online, but not on your computer. You can easily create a space, more like a website, and as the owner of this space you can give access to anyone to participate in it by sending an email invitation with a permission link. Then your invitees can view, download and even comment on your content with no registration required.
Wikidot
Wikidot is a free web based file-sharing service that allows you to create your own space, called a "drop". Without registration you can easily become an owner of a space, where you can use many collaboration and communication tools available.
Wiggio
With its impressive communication features, Wiggio is a versatile online collaboration solution. It lets you interact with your existing communication aids such as email and text messaging, making it a powerful tool when working with a group of any size that needs access to material on-the-go and constant communication with your group members. You can set up the calendar feature to either send event remainders to as many participants as you wish at once via email, text messaging or even voice messaging. With Wiggio's full featured word processor, you can upload and edit files on the spot. In addition, you can use its group conference calling, chat rooms, polling, to-do-lists and various other features.
Figure 7
Wiggio
Source: www.techcrunch.com
Online Collaboration Considerations
Professionalism
Whether you are collaborating with a group face to face or online, it is critical to maintain appropriate business manners at all times. Constant technological advances in the area of communication allow us to achieve levels of interaction never dreamed of in the past. Be it email, web conferences or collaboration websites, we have to adapt to different settings. A clear understanding of work ethics and professionalism can improve the effectiveness of communication and enhance the productiveness of the group.
Language
The way you communicate with others in the work place determines the level of effectiveness in the performance of your job. That is why it is very important to always use appropriate language in the business world. Your language choice, whether written or spoken, can also affect your credibility, negatively or positively. Cultural and diversity sensitivity in the way we communicate with other goes a long way. The way you express yourself should always present you as someone intelligent, mature and professional.
Summary
Considering the many collaboration tools available in the market, it's safe to say that you can easily find the tools that meet your specifications and needs. A well planned implementation of communication mediums can avoid future challenges such as technological compatibility or budget adjustments. Choosing the appropriate communication and collaboration tools will allow individuals to come together and reach their full potential and consequently complete their tasks and achieve their goal with ease.
Resources
Stern, Zack. "Work Smarted With Online Collaboration Tools." PCWorld: Business Center, 1998. Web. 10 Mar. 2010.
The Online Collaboration Tools Guide." Read Write Enterprise. Read Write Web, 2003. Web. 16 Apr. 2009.
Wolfe, Joanna. Team Writing: A Guide To Working in Groups. New York: Bedford/St. Martin's, 2010. Print.
Picardo, Jose. "Top Five Online Presentation Tools". Box of Tricks. Technology and Education, 2009. Web. 23 May 2009.